In a swift response to the threats issued by the Muslim Solidarity Forum (MSF) asking Bishop Mattew Hassan Kukah to apologise or "quickly and quietly leave" Sokoto state, the presidency on Wednesday's night, January 13, responded in deference of the respected cleric.
PAY ATTENTION: Join Legit.ng Telegram channel! Never miss important updates!
MSF, a society based in Sokoto, had on Tuesday, January 12, said the message of the cleric was a direct attack on Islam and then asked him to leave.
Speaking through its acting chairman Isa Muhammad Maishanu, the group also stressed that Bishop Kukah is fanning embers of religious violence, though the cleric in question has "as a matter of honour" challenged MSF to show where he attacked Islam or Muslims.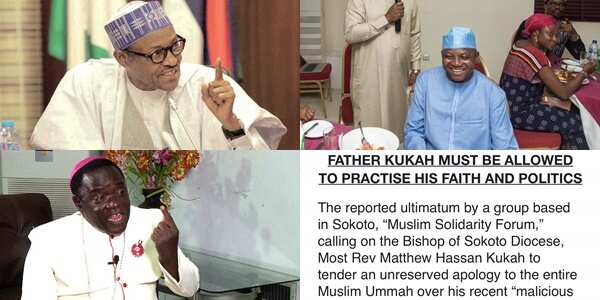 But in a rub-hitting response to MSF's threats by a media aide to President Muhammadu Buhari, Garba Shehu, the presidency said Kukah "has the right" to freedom of speech, among other protection under the law.
Legit.ng outlines 4 things Malam Shehu said in his timely yet controversial rebuttal.
1. Kukha should be allowed to practise his faith and politics
Shehu said to threaten Bishop Kukah is wrong because it is not in line with the constitution of the Federal Republic of Nigeria.
"Under our Constitution, every citizen has the right to, among others, freedom of speech and expression, the right to own property and reside in any part of the country, and the right to move freely without any inhibitions."
2. Respect rights and sensitivity of Nigerans
Garba Shehu said "the right for all religions to co-exist" must be respected, while rights and feelings of Nigerians must also be respected.
"The duty of the government, more so, this democratic government, is to ensure that the Constitution is respected. But all must respect the rights and sensitivities of their fellow Nigerians."
3. Kukah offended many with controversial remarks
Although the statement was meant to defend Kukah, presidency insisted that the cleric's remark is controversial, offending many people.
"Father Kukah has greatly offended many with his controversial remarks against the government and the person of the President, with some even accusing him of voicing anti-Islamic rhetoric."
4. Religious and political leaders must exercise restraint
"On matters such as these, responsible leadership in any society must exercise restraint. Knee-je'rk reactions will not only cause the fraying of enduring relationships, but also the evisceration of peaceful communities," Shehu said.
CAN reacts
Meanwhile, the Christians Association of Nigeria (CAN) has reacted to the call for Kukah to apologise for his statement, describing the threats of MSF as laughable.
The general secretary of CAN, Rev. Joseph Daramola, said the respected cleric spoke within the limits of his fundamental human rights.
2023 election: Why a northerner should be President again – Shettima | – on Legit TV