A Nigerian woman has been hailed on social media for allowing three of her sons to join the Armed Forces despite giving birth to four.
One of the woman's sons with the Twitter handle @3Star_GOD took to the social media platform to disclose that he and two of his brothers were allowed to join the military.
Sharing adorable photos of himself and his siblings, @3Star_GOD wrote:
"My Mama gave birth to 4 cute boys and she wholeheartedly gave out the hand of 3 in marriage to the Nigerian Armed Forces.. A strong woman she is."
Nigerians soon flooded the comment section of the man's post and requested to see the picture of the brave woman who could allow three of his children join the Armed Forces.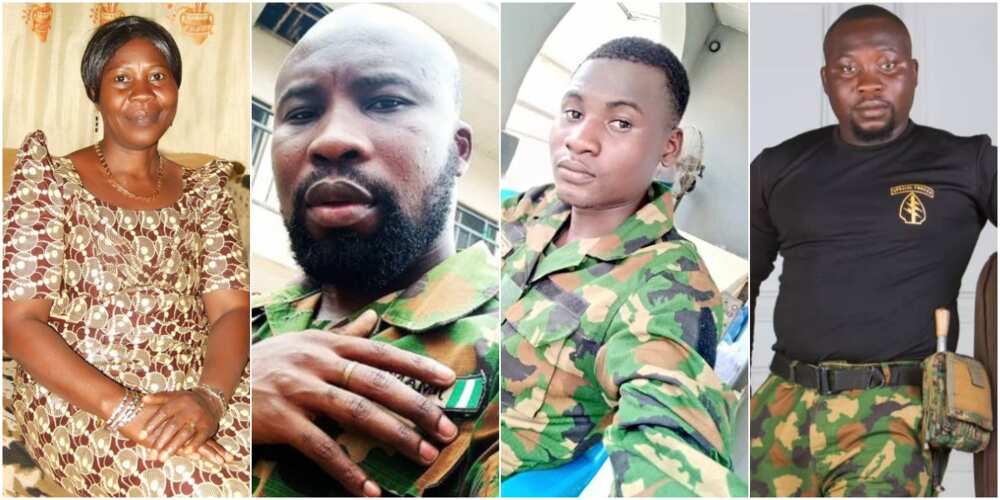 It should be noted that some people's dreams of joining the military didn't see the light of day because their parents disapproved of it. And for a woman to have three of her children in the Armed Forces is worth celebrating.
Nigerians prayed for the woman and described her as the real Mama Nigeria.
Tweep with the handle @MalAbdullahijnr wrote:
"May God bless and keep protecting her."
@iamremraj commented:
"God bless Mama! Her children, grand children and great grand children will surround her table in Jesus name, amen."
@adeysquare reacted:
"She's great woman. May God bless her & all you her sons striving for a united, peaceful and great Nigeria."
@LukSololalukman commented:
"Thank you mummy. May God continue to bless and protect you and all your fruits."
Below are other reactions:
More details soon…